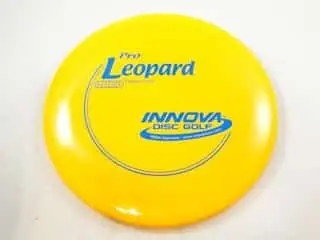 The Leopard is the classic straight flying Innova fairway driver. This disc is often seen in beginner sets thanks to its reliable flight path and limited fade. It's not the fastest flying disc (speed 6) but new players probably will see more distance than any other disc out there.
While the Leopard is great for beginners, it can be found in the arsenal of more experienced players. With moderate shots this disc is great for weaving through narrow tree lines. It's also a good anhyzer disc that slices to the right, and makes a good roller to.
If you want a great disc to perfect your throwing technique, buy a handful of inexpensive DX Leopards and head to a field.
Leopard Quick Stats
Disc Width: 21.2cm (97.87% of average, 99.01% average Fairway)
Disc Height: 1.6cm (79.72% of average, 90.57% average Fairway)
Interior Rim Height: 1.1cm (93.46% of average, 92.46% average Fairway)
Rim Width: 1.6cm (109.37% of average, 95.47% average Fairway)
Available Weights (DX, Champion, & Star): 150-175g
Available Weights (Pro-D): 165-175g
Available Weights (Champion Dyed): 165-175g