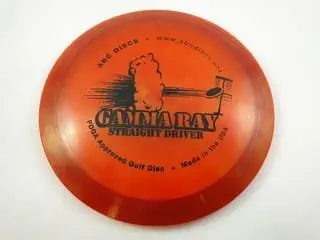 The Gamma Ray is one of ABC's better kept secrets. Best used for a powerful straight drive, the Gamma Ray can stay on target and keep you in the clear.
The ratings for the gamma ray are 9/4/-2/2. This high speed, steady glide, and consistent turn and fade allow you to direct the gamma through the air. For intermediate players that can control a slight hyzer release, the disc can sail hundreds of feet. For experienced players with a powerful throw, this disc can easily sail straight through the air in a nice B-line.
The Gamma is available in a unique blend of ABC's gold plastic. This is a soft but flexible blend that provides an outstanding grip.
Shop for aBC Gamma Ray
Gamma Ray Quick Stats:
Disc Width: 21 cm
Disc Height: 2.0 cm
Rim Thickness 1.9cm
Available Weights: 174g