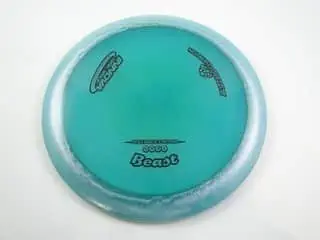 The Beast is one of the most popular distance drivers in the world, and for good reason. The Innova Beast is a fast, stable driver fortunately doesn't overwhelm less experienced players. This disc works well for both forehand and backhand shots.
The beast is a good distance driver for new players and pros alike, including world champion Barry Schultz. This disc gives max distance and is great for downwind shots, and anhyzer shots.
The Beast is available in all the popular Innova plastics, including Glow! Great for night play too.
Beast Quick Stats
Disc Width: 21.2cm (97.87% of average)
Disc Height: 1.4cm (69.76% of average)
Interior Rim Height: 1.1cm (93.46% of average)
Rim Thickness: 2.0cm (136.71% of average)
Available Weights (DX): 150-175g
Available Weights (Pro, DX Glow): 165-175g
Available Weights (Champion & Star): 160-175g
Available Weights (Champion Dyed): 170-175g