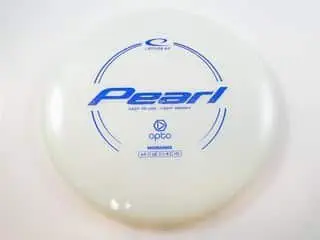 The Pearl is another must-have disc created by Latitude 64 for beginners. If you're looking for the perfect disc for youth, new players, and anyone who hasn't yet mastered their technique, then this is a disc worth considering. This light weight disc offers the perfect combination of turn to provide straight accurate shots.
Intermediate players will definitely appreciate the pearls ability to against the grain and its ability to slice to the right on backhand shots (for right handed players).
The Latitude 64 Pearl can be purchased in the highly durable Opto Line plastic. This disc will take a beating and maintain its flight characteristics.
Pearl Quick Stats
Disc Width: 21.6cm (99.72% of average, 100.23% average Midrange)
Disc Height: 1.8cm (89.69% of average, 91.32% average Midrange)
Interior Rim Height: 1.2cm (101.95% of average, 93.98% average Midrange)
Rim Width: 1.2cm (82.03% of average, 94.32% average Midrange)
Available Weights (Light, Opto Line): 150-159g