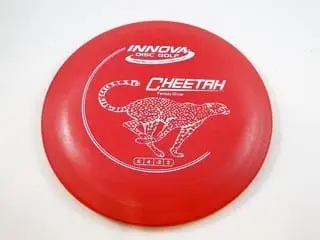 The Cheetah is one of the best drivers for newer disc golfers. Though not one of the fastest golf discs on the market, the Cheetah is really easy to control and provides consistent S-Curve flights.
One of the best things about the Innova Cheetah is that it is a very cheap golf disc. It's available in DX plastic, which is least expensive, and provides an excellent grip allowing for confident, and controlled, shots.
The Cheetah comes in weights as low as 150g. Newer disc golfers and youth will see more distance with lighter weight discs.
Cheetah Quick Stats
Disc Width: 21.1cm (97.41% of average, 98.54% average Fairway)
Disc Height: 1.9cm (94.67% of average, 107.55% average Fairway)
Interior Rim Height: 1.2cm (101.95% of average, 100.86% average Fairway)
Rim Width: 1.6cm (109.37% of average, 95.47% average Fairway)
Available Weights (DX): 150-175g